Synonym(s)
Dyschroa; Dyschromasia; Dyschromatosis; Dyschromia; Dyschromodermia
Definition

This section has been translated automatically.
Especially in the Anglo-American literature differently defined term for an endogenously or exogenously caused, solitary or multiple, localized, disseminated or universal (diffuse), by differently colored, endogenous or exogenous pigments(not melanin pig ments) caused color change of the skin (coloration), the mucous membranes, the hair, the nails (see below Chromonychia) and possibly the teeth.
A "melanotic discoloration of the skin" is not called dyschromia, but hyperpigmentation (melanin pigmentation) (see there).
Classification

This section has been translated automatically.
Dyschromias can be subdivided according to color, type (e.g. metal salts) and origin (endogenous or exogenous) of the pigments or according to their localization:
Dyschromias due to metal salts:
Dyschromias due to medications:
Amalgam
Amiodarone (darkening of the skin)
Minocycline (largely reversible blue-black pigmentation on the face, lower legs and oral mucosa due to iron-containing pigment when taken in high doses for a long time)
Clofazimine (reddish to brown-violet skin discoloration)
Imipramim
Hydroxychloroquine (malaria prophylaxis; therapy of lupus erythematosus)
Dyschromias due to metabolic products:
Exogenous (circumscribed) dyschromia:
Ochronosis, exogenous: after application of creams containing ingredients such as hydroquinone or phenol, used by people of color to bleach facial skin, pigment deposits may occur in the skin, usually on the cheeks.
Argentum nitricum (caustic)
Iron-III-chloride (brushings for local hemostasis)
Dyes applied for local disinfection (e.g. potassium permanganate, quinolinol, fuchsin, eosin, methylrosanilinium chloride (gentianaviolet)) or other therapeutic measures (e.g. dithranol for psoriasis therapy).
dyes (applied for cosmetic purposes, e.g. henna)
jewelry (= black dermographism: discoloration of the skin at the contact point of the jewelry)
Tattoos (jewelry or dirt tattoos)
Temporary tattoos (e.g. henna)
Dirt tattoos (after injuries of the skin)
Sideroses (rust formation) of the skin, after penetration of ferrous metal splinters into the skin.
Disclaimer
Please ask your physician for a reliable diagnosis. This website is only meant as a reference.
Images (4)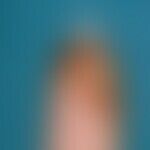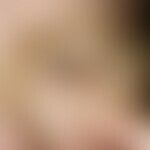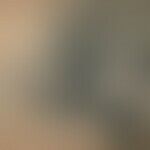 Articlecontent