Synonym(s)
SAG; Superantigens
Definition

This section has been translated automatically.
Superantigens (SAG) are a complex of toxins with antigenic properties that are among the most potent activators of human T lymphocytes. Well known are bacterial and viral superantigens. Especially gram-positive bacteria are important producers of superantigens, here especially staphylococci and streptococci. Known superantigens are the erythrogenic scarlet toxins (see scarlet fever below) of the beta-hemolytic streptococci of the Lancefield group.
Among the gram-negative microorganisms, the toxins MAM and YPM of Mycoplasma arthritidis and Yersinia pseudotuberculosis are known as superantigens.
The Epstein-Barr-Virus (EBV) as well as HIV-1 (see below HIV infection) are also producers of superantigens.
General information

This section has been translated automatically.
Images (1)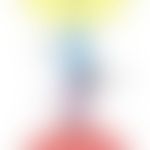 Articlecontent