Synonym(s)
Angled transverse displacement flap; Trapezoid flap
Definition

This section has been translated automatically.
Suture plastic surgery of the skin with trapezoidal flap formation to cover a wedge-shaped or round defect.
General information

This section has been translated automatically.
In contrast to the U-shift flap plasty, the cut of the flap sides is not parallel but trapezoidally diverging to the base of the flap. Two opposite relief triangles are located at the base. For coverage, the flap end is displaced into the trapezoidal defect. Lateral displacements of the trapezoidal flap, e.g. into a wedge-shaped defect, are also possible.
In contrast to rotational flap plasty according to Imre, the direction of incision starting from the short base of the excision triangle is not continued laterally in an arc, but transversely. At the end of the incision line, the incision is made at a right or obtuse angle caudally to form a U-shaped or trapezoidal flap which, after undermining, is tansponed into the defect without tension. In doing so, the amount of flap rotation can be decreased, reducing the maximum tension force within the flap as well as the risk of flap tip necrosis. In addition, a contralateral relief triangle (von Burow) can be excised, which should be no more than one-third the size of the primary defect.
Indications: This technique is particularly suitable for covering defects in the cheek area and on the side of the nose.
Literature

This section has been translated automatically.
Schulz H (1988) Operative dermatology of the face. Practical interventions. Diesbach, Berlin
Petres J, Rompel R, Robins P (1996) Dermatologic surgery. Textbook and atlas. Springer, New York Heidelberg
Images (4)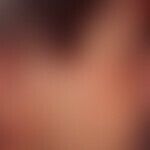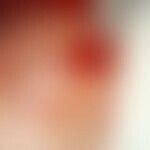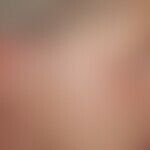 Articlecontent