Synonym(s)
Eyelid Lid Loosening
Definition

This section has been translated automatically.
Surgical removal of functionally or aesthetically disturbing changes of the eyelid skin.
General information

This section has been translated automatically.
In case of a lowering of the eyelid skin and orbicularis muscles, accompanied by fatty tissue protusions, one speaks of blepharochalasis (on the lower eyelid: "bags under the eyes"). Eyelid edge malpositions, facial field restrictions and chronic inflammations can be the result.
In the skin flap technique on the lower eyelid, the direction of incision is initially parallel to the edge of the eyelid and laterally outwards in a short, downward angled line, without crossing the edge of the orbita. The incision should begin about 2 mm below the edge of the eyelid at the level of the lacrimal punctum. The flap is opened caudally and dissected from the underlying orbicularis muscle. By incising the orbicularis muscle and the septum orbitale, the fatty tissue compartments are ectropionated, grasped, and ablated under hemostasis. After elevation of the inferior wound margin, excess skin can be removed along a marked incision line. Caution. Blepharoplasty of the lower eyelid can result in permanent ectropion if the skin resection is too generous. It should also be warned against the risk of displacement of the lacrimal punctum and retrobulbar haematoma. In blepharoplasty of the upper eyelid, excess skin can usually be resected in a spindle shape without complications.
Literature

This section has been translated automatically.
Kaufmann R, Podda M, Landes E (2005) Dermatological operations. Colour atlas and textbook on skin surgery. Thieme, Stuttgart New York
Schulz H, Altmeyer P, Stücker M, Hoffmann K (1997) Outpatient operations in dermatology. Hippocrates, Stuttgart
Images (2)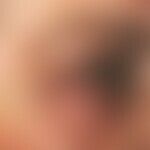 Articlecontent