Definition

This section has been translated automatically.
Vaguely defined, "obsolete" term for "physiological" nail changes occurring in old age with thickening or thinning of the nails, increased transverse curvature, bradyplasia, reduction of the lunula, tendency to onychorrhexis, pronounced longitudinal ripples, pearl-like stripes (pearl grooves) longitudinal ridges and longitudinal furrows.
Etiopathogenesis

This section has been translated automatically.
Supply disturbances of the nails caused by reduced blood circulation in the acras. The changes are particularly noticeable on the toenails. The formation of inferior keratin leads to its brown discoloration. The nails become brittle, harder and split easily. The renewal time increases to a multiple of the normal value, from 6 months to 2 years. Inferior keratin explains the frequent onychomycosis in the elderly.
Therapy

This section has been translated automatically.
No therapy is necessary for milder forms. Careful nail care after previous soaking in a lukewarm soap bath.
In case of onychogrypose application of keratolytic ointments or pastes, e.g. by using 40% urea pastes (urea paste according to Farber: R109, urea paste 40% - NRF 11.30.) and/or mechanical removal of excess horn material.
For pronounced forms, mechanical removal of the thickened nail material with electric milling is recommended. This should be carried out by methodically experienced medical chiropodists.
Disclaimer
Please ask your physician for a reliable diagnosis. This website is only meant as a reference.
Images (2)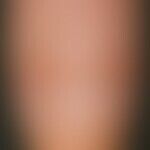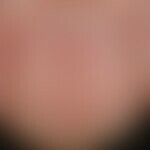 Articlecontent